Royal Berkey - 12 Liters system.
Description

Details du Filtre Berkey

Livraison et Délais

FAQs
This system comes standard with 2 Black Berkey Purification Elements (Same filters as in other Berkey Water Filter systems) but can be expanded up to 4 elements. Royal Berkey Water Filter system is ideal for use at home with medium-sized families or group of 3-6 people Can also be used for outdoor activities or during unexpected emergencies like other Berkey systems Constructed of highly polished AISI 304 stainless steel. Same high quality stainless steel as in other Berkey Waterfilter systems Berkey Filters remove 99,999% of chlorine, viruses, harmful pathogenic bacteria, cysts, heavy metals, parasites and hazardous chemical contaminants and other impurities while leaving undisturbed the essential minerals your body needs. See full list in the FAQ's section to the right hand side. Storage capacity of 12 liters Maximum Filters: 4 Black Berkey Purification Elements (in upper chamber) System includes upper and lower stainless steel chamber, 2 Black Berkey Purification Elements (expandable up to 4), 1 stainless steel lid, 1 spigot, 2 wingnuts, 2 washers, 1 priming button, 2 blocking plugs, 1 rubber gasket to protect the base, system is ready to use after assembling Height when in use 58cm Diameter 24cm For normal everyday use, this system easily serves: 3-6 people Maximum Filtration Flow Rate: Configured with 2 Black Berkey Purification Elements, the Royal Berkey system can purify up to 4 gallons (15.1 liters) per hour Configured with 4 Black Berkey Purification Elements, the Royal Berkey system can purify up to 8 gallons ( 30.3 liters) per hour Up to 4 PF-2 Fluoride and Arsenic Reduction Filters can be installed in the lower chamber if desired Berkey Waterfilters France is a supplier for tFrance, Germany and the rest of Europe with full worldwide warranty, excellent customer service and worldwide shipping. Free Next Day Delivery in France, Germany and the rest of Europe. + Free DHL shipping to all other European countries. (1-3 days to most countries)
BERKEY FILTER DETAILS Is the water we drink clean? It is increasingly difficult to find clean drinking water these days. Sometimes even bottled water is tap water containing harmful chemicals such as chlorine, lead and other pollutants. Berkey filtration systems, the most efficient portable filters in the industry. Revolutionary Black Berkey Filters remove up to 99.999% of harmful chemicals and heavy metals from your tap water, while leaving essential minerals your body needs. They will last up to 11 years before replacement filters have to be ordered. Berkey filters are the world leaders in water filtration and purification. They are so effective that they are categorized as water purifiers. Because this filter set is cleanable, they are the most durable filters on the planet, and will last up to 11 years if cleaned regularly (every 6-7 months). The filtration units in all Berkey filter systems are cleanable, making Berkey the most durable water filter on the planet and making it capable of using water from virtually any source and producing water. pure and sparkling drinking. Perfect for everyday use. Constructed of highly polished 304 stainless steel (Big Berkey / Travel Berkey) / or specially designed plastic (Berkey Light), the system comes with two purification devices and uses the latest technological advancements. With 2 Black Berkey filters inside, this system will purify a maximum of 13.3 liters per hour. With 4 filters you will double its efficiency to 26.6 liters per hour. Each Black Berkey filter element will last and be effective for up to 23,000 liters, which equates to over 11 years of pure, clean drinking water! Berkey water filters are much more efficient than other filters available thanks to their revolutionary Black Berkey filters and the high quality of their 304 stainless steel. Berkey filters remove chlorine, viruses, pathogenic bacteria, cysts and parasites, and harmful chemical contaminants and impurities while preserving essential minerals your body needs. Berkey water filters are recommended worldwide as the No. 1 filters in the market by health blogs, magazines and millions of happy customers.
Free delivery (+ 50 € purchase) within 3 to 5 days with DHL or DPD. Berkey Waterfilters Pte Ltd. Berkey Waterfilters France is part of Berkey Waterfilters Germany and 100% owned by Berkey Waterfilters Pte Ltd. Our distribution warehouses are located inGermany, France, and the rest of Europe. We offer worldwide delivery from all of our distribution warehouses. We provide a tracking number on the day of shipment for you to track your package. All our products are shipped the same day for all orders placed before 2:30 p.m. Berkey Waterfilters France Berkey Waterfilters PTE. LTD. UEN Registered Company Number 201943935C Exempt Private company limited by shares
When will you ship my order? All products are shipped the same day if ordered before 3pm. For UK orders we use DPD who will deliver the following Working Day from dispatch. We will provide a tracking number on the day of dispatch for you to track your consignment on the DPD website. How fast will my water filter purify tap water? The system will purify up to 13.3 litres per hour with 2 x Black Berkey filters inside (or 26.6 Litres per hour with 4 x Black Berkey filters inside). In real terms, this equates to approximately 1 glass of water per minute. I have another question not answered here... Please refer to our Full FAQ page - if you still have a question please click on the link below and ask!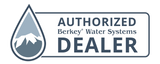 Delais et réapro
Vos articles sont très souvent, trop souvent en rupture.
Commande d'un filtre à eau pour la France
Excellent service commercial, très réactif et arrangeant. Je recommande chaleureusement cette société. Le produit est d'excellente facture.
Parfait pour moi...
La fontaine Berkey Royal est très bon achat, de qualité, livré en 4 jours malgré la période de Noël... Par contre la fontaine Royal à prix 30 euros, juste après mon achat(genre 5mn après lorsque je suis revenu sur le site) , je l'ai eu à 379 €... Je la trouve assez chère, mais je trouve que c'est un bon investissement...
Fonctionne parfaitement
Envoie rapide et soigné la filtration est très efficace.
Nous sommes très satisfait
Votre produit à été bien reçu. L eau est légère son gout est agréable neanmoins et apres avoir testé l eau le dts residu sec est entré 400 et 420 celui du robinet est de 480
On s attendait à un taux beaucoup plus faible e ne dépassant pas 100. Avez vous une explication..merci