Travel Berkey system - 5,7 Liters
Description

Details du Filtre Berkey

Livraison et Délais

FAQs
Travel Berkey is a smaller version of the Big Berkey system and is perfect for small households of 1-2 people. The system comes complete and ready to use with 2 x Black Berkey original purification elements (Same filters as in other Berkey water filter systems) and utilizes the latest technological advances in water purification today. Constructed of highly polished AISI stainless steel, stainless model 304' that is one of the longest lasting stainless steel on the market today. Travel Berkey has a holding capacity of. 5.7 litres when in use and stands 46 cm in height with a diameter of 19 cm The system will purify up to 13.3 litres per hour. Each set of Black Berkey filters will last for up to 23,000 litres or up to 11 years. Berkey Filters removes 99,999% of Chlorine, Viruses, Harmful pathogenic Bacteria, Cysts, Heavy Metal, parasites and hazardous chemical contaminants and other impurities while leaving undisturbed the essential minerals your body needs. See full list in the FAQ's section to the right hand side. All Berkey systems comes with a set of 2 Black Berkey filters inside and are ready for immediate use after assembling. Berkey water filters are much more powerful than other water filters on the market because of the Black Berkey revolutionary filters inside and the high quality stainless 304 steel that will last a lifetime. Berkey is one of the best selling brands in water filters and purification systems in the world today and recommended as No.1 filter system on the market by a variety of health magazines, labs and independent health sites, and millions of happy customers all over the world. They are so powerful that they are classed as a water purification systems and have a much higher standard then normal water filters on the market today. Berkey Waterfilters France, Germany and EU is a supplier for France, Germany and the rest of Europe with full warranty and excellent customer service. Free Next Day Delivery in France, Germany and EU. + Free DHL shipping to all other European countries. (1-3 days to most countries)
BERKEY FILTER DETAILS Is the water we drink clean? It is increasingly difficult to find clean drinking water these days. Sometimes even bottled water is tap water containing harmful chemicals such as chlorine, lead and other pollutants. Berkey filtration systems, the most efficient portable filters in the industry. Revolutionary Black Berkey Filters remove up to 99.999% of harmful chemicals and heavy metals from your tap water, while leaving essential minerals your body needs. They will last up to 11 years before replacement filters have to be ordered. Berkey filters are the world leaders in water filtration and purification. They are so effective that they are categorized as water purifiers. Because this filter set is cleanable, they are the most durable filters on the planet, and will last up to 11 years if cleaned regularly (every 6-7 months). The filtration units in all Berkey filter systems are cleanable, making Berkey the most durable water filter on the planet and making it capable of using water from virtually any source and producing water. pure and sparkling drinking. Perfect for everyday use. Constructed of highly polished 304 stainless steel (Big Berkey / Travel Berkey) / or specially designed plastic (Berkey Light), the system comes with two purification devices and uses the latest technological advancements. With 2 Black Berkey filters inside, this system will purify a maximum of 13.3 liters per hour. With 4 filters you will double its efficiency to 26.6 liters per hour. Each Black Berkey filter element will last and be effective for up to 23,000 liters, which equates to over 11 years of pure, clean drinking water! Berkey water filters are much more efficient than other filters available thanks to their revolutionary Black Berkey filters and the high quality of their 304 stainless steel. Berkey filters remove chlorine, viruses, pathogenic bacteria, cysts and parasites, and harmful chemical contaminants and impurities while preserving essential minerals your body needs. Berkey water filters are recommended worldwide as the No. 1 filters in the market by health blogs, magazines and millions of happy customers.
Free delivery (+ 50 € purchase) within 3 to 5 days with DHL or DPD. Berkey Waterfilters Pte Ltd. Berkey Waterfilters France is part of Berkey Waterfilters Germany and 100% owned by Berkey Waterfilters Pte Ltd. Our distribution warehouses are located inGermany, France, and the rest of Europe. We offer worldwide delivery from all of our distribution warehouses. We provide a tracking number on the day of shipment for you to track your package. All our products are shipped the same day for all orders placed before 2:30 p.m. Berkey Waterfilters France Berkey Waterfilters PTE. LTD. UEN Registered Company Number 201943935C Exempt Private company limited by shares
When will you ship my order? All products are shipped the same day if ordered before 3pm. For UK orders we use DPD who will deliver the following Working Day from dispatch. We will provide a tracking number on the day of dispatch for you to track your consignment on the DPD website. How fast will my water filter purify tap water? The system will purify up to 13.3 litres per hour with 2 x Black Berkey filters inside (or 26.6 Litres per hour with 4 x Black Berkey filters inside). In real terms, this equates to approximately 1 glass of water per minute. I have another question not answered here... Please refer to our Full FAQ page - if you still have a question please click on the link below and ask!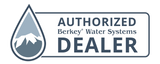 Content de cet achat
Filtre acheté pour me passer de l'eau en bouteille et du robinet pour des raisons pratiques et sanitaires. Le goût obtenu est plutôt neutre, ce qui est un bon signe. Le réservoir de 5,7 L suffit amplement pour 2 et n'a posé aucun problème lors de la visite d'un couple d'amis puisque le filtrage est rapide malgré les 2 filtres de base + les 2 filtres fluor supplémentaires.
Je vous conseille d'aller voir les tutos disponibles sur Youtube pour vous assurer de la bonne procédure de montage (notamment concernant le nettoyage et l'amorçage des filtres). Néanmoins, cela reste très simple.
Le filtre, plutôt esthétique, ne prend pas trop de place et le robinet est très pratique. Je précise que j'ai eu la mauvaise surprise d'avoir des frais de douane à payer (111€ de mémoire) puisque l'appareil provenait d'un dépôt situé à l'étranger. Vu l'heure de livraison (fin d'après-midi), les bureaux étaient fermés. J'ai négocié avec le livreur pour repasser le lendemain matin, auquel cas cas je lui paierai la somme si remboursement prévu par Berkley ou il repartait avec. J'ai envoyé un mail à Berkley France. Ceux-ci se sont montrés très réactifs car à la 1ère heure du lendemain matin, j'avais ma réponse. Ils ont procédé au rembrousement sans délai le main même et j'ai pu payer le livreur dans le même temps.
Il aurait été plus efficace et donc moins contraignant que Berkley prévienne les clients de cette procédure. Maintenant, je pense que c'est tout nouveau à cause du Brexit et qu'ils ont besoin de se réorganiser.
Je ne regrette pas mon achat et recommande Berkley sans hésitation malgré ce malentendu.
Avis
Produit de qualité pour une eau saine..
Pas pu le monter ! Attends toujours le remplacement de la vis du robinet
Très utile, pour le goût, l'hygiène, la prévention.
Element de sécurité alimentaire et de santé pour la famille.
Le robinet devrait être aussi en acier.
Merci beaucoup !
Système très fonctionnel, merci beaucoup !