Sport Berkey Water filter gym bottle 600 ML
Description

Details du Filtre Berkey

Livraison et Délais

FAQs
Sport Berkey Water filter gym bottle 600 ML. Perfect for Gym, Travelling, Cycling, Hiking and any outdoor activities. Brand new design 2018 The Sport Berkey™ Portable Water Filter 600 ML is the ideal personal protection travelling companion - featuring the IONIC ADSORPTION MICRO FILTRATION SYSTEM the unit is perfect for a Gym visit or Hiking, and is made from specially made BPA free plastic material that will not contaminate the water. With normal usage the Sports Berkey will last 12 months or 640 refills before new filters are recommended (New sets of filters can be purchased for only 21 GBP) The theory behind this innovation is simple but potent. The bottle's Filter is designed to remove and/or dramatically reduce a vast array of health-threatening contaminants from questionable sources of water, including remote lakes and streams, stagnant ponds and water supplies in foreign countries where regulations may be sub-standard at best. The Sport Berkey™ Portable Water Filter Utilizes: IONIC ADSORPTION MICRO FILTRATION This advanced technology was developed, refined, and proven through diligent, investigative research and testing performed by water purification specialists, researchers and engineers. The media within the Filter element removes contaminants by a surface phenomenon known as "adsorption" which results from the molecular attraction of substances to the surface of the media. As the bottle is pressed, the source water is forced through the Filter. The quality and volume of media used determines the rate of adsorption. The flow rate or time of exposure through the Filter has been calculated to yield the greatest volume removal of toxic chemicals caused by pollution from industry and agriculture. This exclusive Filter element is impregnated with proprietary "absorbing" media that promotes IONIC "absorption" of pollutants within the micro-porous element, such as aluminium, cadmium, chromium, copper, lead, mercury, and other dangerous heavy metals. The "Tortuous Path" structure of these pores gives it its unique characteristics. The Sport Berkey™ Portable Water Filter offers a convenient and portable filtration system using medical grade technology. Care and Use Fill the Sport Berkey™ Portable Water Filter with water, screw on cap and tighten securely to eliminate leaks. Flush water through Filter by pulling down lever, so that straw is exposed, and squeeze water through Filter & out the straw. Repeat this flushing process twice before drinking. This removes excess process dust from the Filter. After 2 flushes, rinse the bottle & cap. Your Filter bottle is now ready for use. Enjoy! Maintenance and Storage The Sport Berkey™ Portable Water Filter has a shelf life of 50 years. When the Filter system will not be used for an extended period, flush the unit with a chlorinated solution of 1/4 tsp. per 2 liters of water. Allow to dry thoroughly with cap removed. Re-assemble and stow. Do not allow Filter to freeze, do not place in microwave oven and do not run hot water or sea water through the Filter.
BERKEY FILTER DETAILS Is the water we drink clean? It is increasingly difficult to find clean drinking water these days. Sometimes even bottled water is tap water containing harmful chemicals such as chlorine, lead and other pollutants. Berkey filtration systems, the most efficient portable filters in the industry. Revolutionary Black Berkey Filters remove up to 99.999% of harmful chemicals and heavy metals from your tap water, while leaving essential minerals your body needs. They will last up to 11 years before replacement filters have to be ordered. Berkey filters are the world leaders in water filtration and purification. They are so effective that they are categorized as water purifiers. Because this filter set is cleanable, they are the most durable filters on the planet, and will last up to 11 years if cleaned regularly (every 6-7 months). The filtration units in all Berkey filter systems are cleanable, making Berkey the most durable water filter on the planet and making it capable of using water from virtually any source and producing water. pure and sparkling drinking. Perfect for everyday use. Constructed of highly polished 304 stainless steel (Big Berkey / Travel Berkey) / or specially designed plastic (Berkey Light), the system comes with two purification devices and uses the latest technological advancements. With 2 Black Berkey filters inside, this system will purify a maximum of 13.3 liters per hour. With 4 filters you will double its efficiency to 26.6 liters per hour. Each Black Berkey filter element will last and be effective for up to 23,000 liters, which equates to over 11 years of pure, clean drinking water! Berkey water filters are much more efficient than other filters available thanks to their revolutionary Black Berkey filters and the high quality of their 304 stainless steel. Berkey filters remove chlorine, viruses, pathogenic bacteria, cysts and parasites, and harmful chemical contaminants and impurities while preserving essential minerals your body needs. Berkey water filters are recommended worldwide as the No. 1 filters in the market by health blogs, magazines and millions of happy customers.
Free delivery (+ 50 € purchase) within 3 to 5 days with DHL or DPD. Berkey Waterfilters Pte Ltd. Berkey Waterfilters France is part of Berkey Waterfilters Germany and 100% owned by Berkey Waterfilters Pte Ltd. Our distribution warehouses are located inGermany, France, and the rest of Europe. We offer worldwide delivery from all of our distribution warehouses. We provide a tracking number on the day of shipment for you to track your package. All our products are shipped the same day for all orders placed before 2:30 p.m. Berkey Waterfilters France Berkey Waterfilters PTE. LTD. UEN Registered Company Number 201943935C Exempt Private company limited by shares
When will you ship my order? All products are shipped the same day if ordered before 3pm. For UK orders we use DPD who will deliver the following Working Day from dispatch. We will provide a tracking number on the day of dispatch for you to track your consignment on the DPD website. How fast will my water filter purify tap water? The system will purify up to 13.3 litres per hour with 2 x Black Berkey filters inside (or 26.6 Litres per hour with 4 x Black Berkey filters inside). In real terms, this equates to approximately 1 glass of water per minute. I have another question not answered here... Please refer to our Full FAQ page - if you still have a question please click on the link below and ask!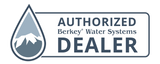 Excellente idée de cadeau!
Cette gourde est parfaite pour les aventuriers et les voyageurs, un cadeau utile et très apprécié!
Partout on l'on va , on a toujours de l'eau filtre à boire. Pas plus encombrant que n'importe quelle bouteille d'eau non filtrée
Bonjour,
Nous sommes ravis que votre Système de Filtration Go Berkey vous apporte une entière satisfaction.
Le Système de Filtration Go Berkey est compact et facilement transportable. Il est conçu pour être utilisé en camping, transporté dans votre sac à dos pour une randonnée, à l'école, en voyage ou encore en cas d'urgence.
Il peut être également un bon choix comme purificateur d'eau d'intérieur pour 1 à 2 personnes.
Ne vous méprenez pas sur sa taille, sa performance de filtration est équivalente à ses grands frères.
Versez simplement de l'eau dans la chambre supérieure du système et distribuez facilement de l'eau pure en versant directement l'eau depuis la chambre inférieure.
Le filtre Black Berkey™ fourni en standard avec votre système permet de purifier 13350 litres d'eau.
Bien cordialement,
Berkey Waterfilters France
Bonjour,
Nous vous remercions d'avoir pris le temps de laisser un commentaire et nous sommes heureux de constater que la Bouteille de Sport Berkey vous apporte un entière satisfaction.
La Bouteille de Sport Sport Berkey est le compagnon idéal pour votre protection personnelle, grâce au système de micro filtration par adsorption ionique.
Le système filtrant de la bouteille est conçu pour supprimer ou réduire considérablement un large éventail de contaminants dangereux pour la santé provenant de sources d'eau suspectes, notamment des lacs et des ruisseaux, des étangs stagnants et de l'eau distribuée dans les pays étrangers où la réglementation peut être inférieure aux normes de votre propre pays.
Bien cordialement,
Berkey Waterfilters France
Très satisfaite de ce produit
Bonjour,
Nous vous remercions d'avoir pris le temps de laisser une note et nous nous réjouissons que la Bouteille de Gym Filtre à eau Sport Berkey vous apporte une très grande satisfaction.
Grâce au filtre à eau Sport Berkey de 0,65 litre, vous disposez d'un filtre à eau parfait à emporter en voyage, à utiliser en situation d'urgence ou lors d'activités de plein air. Ce filtre à eau haut de gamme vous permet de filtrer 416 litres d'eau, et en plus, il retire de l'eau potable les éléments indésirables figurant dans la liste ci-dessous :
• Goûts et odeurs désagréables, turbidité, vase, sédiments et chlore.
• Produits chimiques toxiques : trihalométhanes, COV, détergents, pesticides, etc.
• Éléments pathogènes microscopiques nuisibles : Cryptosporidium, Giardia, E-coli >99,99999 % et autres bactéries pathogènes.
• Métaux lourds : aluminium, cadmium, chrome, cuivre, plomb et mercure
• Éléments radioactifs : radon 222
Bien cordialement,
Berkey Waterfilters France
Very nice product
It is an excellent product. Not ideal due to its capacity..a bit bigger would have been nicer. For the rest, go for it and forget the bottle of water.